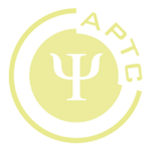 APTC NEWSLETTER
April 2012

Editor: Phyllis Terry Friedman
Associate Editors: Leticia Flores, Don Morgan, Vic Pantesco
Web Master: Michael Taylor
President's Column
Colleen Byrne, Ph.D.
Colleen gives us a look at what's on her mind for future direction:

"wired" and connected.

And, we are inviting suggestions for names for Colleen's friends in her picture.
The Briar Patch:
Thorny Challenges for Directors
Regression in Student Clinicians And Directors, Too
Vic Pantesco, Ph.D.
Self-care in action.
New Director: Meet Kimberly Nylen
Idaho State University Psychology Clinic
Welcome Kim, and we look forward to the continued inspirational participation from Idaho (no pressure).
Strategies for obtaining support:
Getting By with a Little Help from Our Friends
Mary Jo Coiro, Ph. D.
Read about Mary Jo's turning mission-impossible into mission-in-action, and getting financial boost from Administration!
APTC Conference:

Healthy Directors-Healthy Clinics


March 8-11, 2012 in San Diego

Business Meeting Minutes
If you were at the national meeting in sunny SD, reading the summary will bring the smile back. If you weren't at the national meeting, imagine us all smiling and plan to join us next time.
APTC Conference Presentation Highlights
Self-care:
What we're doing
A director reflects.
Reader Review:
A Song of Ice and Fire
,
by George R.R. Martin
Reviewed by
Leticia Flores
If the next time you see Leticia you notice she has been working out, it's because of her reading (fiction, not conditioning books).

Do some light hand- weight exercise and then sit down with her new favorites: A Song of Ice and Fire.
APTC'S New Executive Board
Pictures!
Little Reviews of Cool Stuff
Don Morgan, Psy.D.
Mojitos and French 75. No this isn't James Bond. Just a director who knows his mixology.